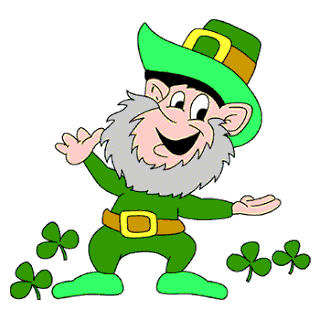 Shamrocks and Ireland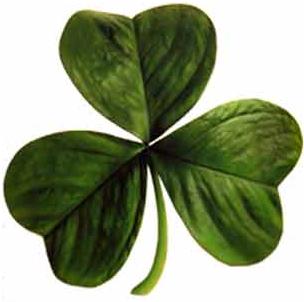 A shamrock is a young sprig of clover. Over the centureies it has become the symbol of Ireland and is associated with Saint Patrick, Ireland's patron saint. The name shamrock comes from Irish seamróg [ˈʃamˠɾˠoːɡ], which is the short form of the Irish word for clover (seamair) and means "little clover" or "young clover".[1]
Botany
Shamrock usually refers to either the species:
Trifolium dubium (lesser clover, Irish: seamair bhuí)[2] or
Trifolium repens (white clover, Irish: seamair bhán).
Three-leaved plants are also sometimes called shamrocks or clovers, such as:.
Medicago lupulina,
Trifolium pratense, and
Oxalis acetosell
History
The shamrock was traditionally used for its medicinal properties and is said to have used by Saint Patrick and has become a closely associated symbol of Ireland.
Saint Patrick and the Shamrock.
St. Patrick is said to used it illustrate the Christian doctrine of the Holy Trinity when Christianising Ireland in the 5th century.
The first evidence of a link between St Patrick and the shamrock appears in 1675 on the St Patrick's Coppers or Halpennies. [3]
And pictures of Saint Patrick depict him driving the snakes out of Ireland with a cross in one hand and a sprig of shamrocks in the other."[4] .
But the first written mention of the link does not appear until 1681, in the account of Thomas Dineley, an English traveller to Ireland. [5]
A 1726 work by the botanist Caleb Threlkeld.[6] identifies the shamrock as White Field Clover and comments rather on the custom of wearing the shamrock on St. Patrick's Day.
As a symbol of Ireland
The shamrock has been used as a symbol of Ireland since the 18th century. The shamrock is used in the emblems of many state organisations, both in the Republic of Ireland and Northern Ireland.
Tourism Ireland
IDA Ireland)[7] a
Police Service of Northern Ireland)
The Irish Postal Service An Post, often has the shamrock on its stamps.
The airline Aer Lingus uses the emblem in its logos,
The shamrock has been registered as a trademark by the Government of Ireland.[40]
References
Nelson (1991), p. 14
Newbie's St. Patrick Coppers - Introduction". coins.nd.edu. Retrieved 4 July 2014.
Santino, Jack (1995). All Around the Year: Holidays and Celebrations in American Life. University of Illinois Press. p. 80. ISBN 9780252065163.
Journal of the Kilkenny Archaeological Society, 1 (1856), p183
"Invest in Ireland, IDA Ireland, Foreign Direct Investment into Ireland, Business in Ireland". idaireland.com. Retrieved 4 July 201.
Use of the harp and the shamrock were registered by the Irish government as international trademarks. See "Record of the meeting of the Joint Oireachtas Committee on Enterprise and Small Business, 26 March 2003". Archived from the original on 17 November 2015.