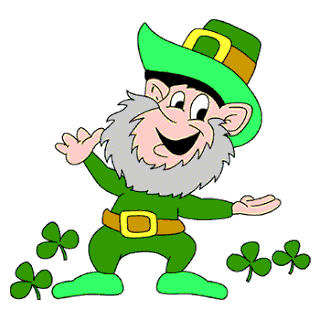 Toronto St. Patrick's Day Parade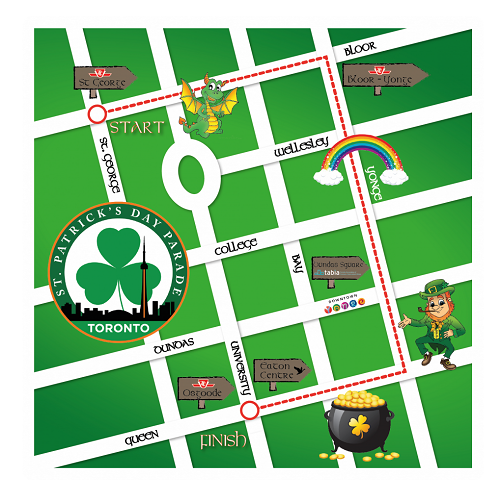 Toronto , Ontario's St. Patrick's Day parade dates back to 1988 and is is one of the largest in North America. ..
When:
Sunday, March 19, 2023 starting at 12 pm, and the line of march lasts one and a half hours at any given point along the route. See their Facebook page for updates
Where:
The Toronto St. Patrick's Day Parade begins on the corner of Bloor Street and St. George Street (near St. George subway station) and heads east on Bloor Street, turns south on Yonge Street and finally turns west on Queen Street, finishing at the parade reviewing stand at Nathan Phillips Square.
View a larger printable PDF version of the Toronto St. Patrick's Day Parade Route Map here.
If you want an interactive Google map, so you can get directions to some point along the parade route, click here!
Who is in the parade:
The parade now includes representatives from Toronto 's Irish groups including:
100 organizations,
32 Irish county associations,
2,000 marchers,
30 floats,
14 bands
as well as an assortment of wolfhounds, leprechauns and talking shamrocks
If you'd like to see photos from last year's parade, click here. But the parade is not just an "Irish thing". According to their website, the parade
Attending the parade as a spectator
What to bring
If it is a cold day, bring a warm hat, warm gloves, and warm shoes. For a sunny day, you'll want to bring sunglasses, suntan lotion, and a hat. The parade goes on rain, shine or snow.
Transportation and Parking
Access from the TTC subway can be made at the following stations: St. George, Bloor, Wellesley, College, Dundas and Queen.
More information
If you want more information, such as to participate in the parade or become a sponsor, see the parade's official website here...
Find the parade's Facebook page here.
Phone: 416) 487-1566.
Email: Info@StPatricksToronto.com.
Other holidays and resources: