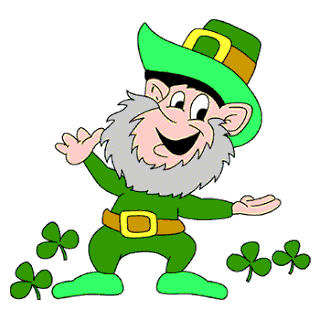 St. Louis St. Patrick's Day Parade
St. Louis's St. Patrick's Day parade dates back 48 years to 1969.
When:
Saturday, March 11, 2023 at 12:00 pm . See their website for latest updates. They could have changed or cancelled it after we last updated this page.
Where:
The parade begins at 12:00 pm at Aloe Plaza (20th and Market) and then travels east on Market, to it's conclusion at Broadway and Clark.
View a larger printable version the St. Louis St. Patrick's Day Parade Route Map here.
If you want an interactive Google map, so you can get directions to some point along the parade route, click here!
Other useful information:
The parade takes place "rain or shine." ... but NOT during a pandemic... St. Patrick is not afraid of snakes, but coronavirus outdoors? You bet he is...
In Normal years, Over 250,000 spectators, the largest of any event in downtown St. Louis, are expected to attend, packing the streets with smiling Irish eyes and festive green attire.
Food and drink will be sold at numerous locations along the parade route, serving soft drinks, hot dogs, burgers, and bratwurst, along with snacks, novelties, and beer. In addition, visit Irish Village at Ballpark Village, for food, fun, and entertainment all day long. Find FAQs about the parade here.
Who is in the parade:
The parade now includes representatives from St. Louis's Irish groups, over 120 units, including:
marching bands,
floats,
huge cartoon-character balloons,
5000+ marchers,
lots of clowns and
dignitaries, from Ireland and the St. Louis area.
And for families, according to their website, the parade
We are launching a family-friendly area to watch the giant helium character balloons close-up as they are being inflated. Come watch as Murphy the Leprechaun, the Irish Flag, and all of the other balloons rise up before your eyes. We will have a volunteer available to answer all of your questions. The inflation will be in Aloe Plaza, near the corner of 18th and Chestnut, between the hours of 8am to 11am.
Attending the parade as a spectator
What to bring
If it is a cold day, bring a warm hat, warm gloves, and warm shoes. For a sunny day, you'll want to bring sunglasses, suntan lotion, and a hat. The parade goes on rain, shine or snow.
Transportation and Parking
The subway is a great way to get in and out to see the parade. Consider MetroLink or MetroBus, when traveling to downtown. MetroLink stations are very convenient to the parade and the run, and are indicated on the map above. For more information, visit Metro St. Louis (aka Bi-State Development Agency).
More information
If you want more information, such as to participate in the parade or become a sponsor, see the parade's official website here...
Find the St. Louis parade's Facebook page here.
Call 314-241-PATS (7287) or by email:
Other holidays and resources: