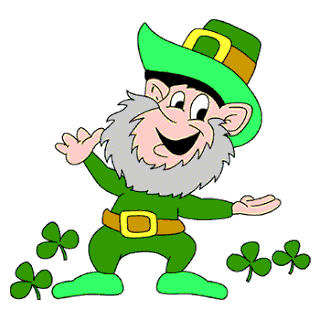 Pittsburgh St. Patrick's Day Parade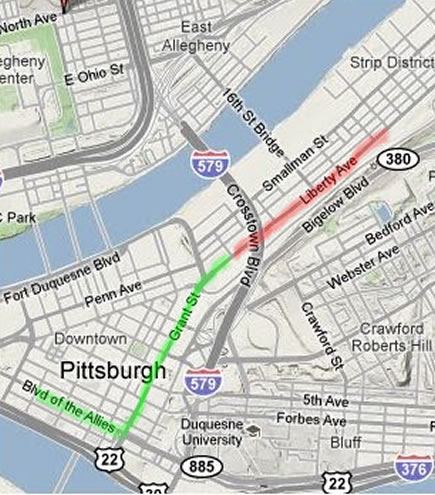 Pittsburgh's St. Patrick's Day parade dates back to 1869. For a complete history of the parade, click here.
When:
Saturday, March 11, 2023 at 10:00 AM. See their website for latest updates. They could have changed or cancelled it after we last updated this page.
Where:
The Parade will begin organiizing at the Greyhound Bus Station at the intersection of Liberty Avenue and 11th Street. Staging will take place from the bus station and away from Downtown to 26th Street.
The parade proceeds from the intersection of Liberty and 11th Streets to Grant Street to the Boulevard of the Allies, where it turns right. The parade proceeds on the Boulevard of the Allies to the Reviewing Stand at Stanwix Street, then disburses at Commonwealth Place.

The parade route viewing areas are marked in green on the map. The staging area is marked in red.
View a larger printable PDF version of the Pittsburgh St. Patrick's Day Parade Route Map here.
If you want an interactive Google map, so you can get directions to some point along the parade route, click here!
Who is in the parade:
The parade now includes representatives from Pittsburgh's Irish groups including:
200 marching units including
18 marching bands.
Floats and
many other groups representing several Irish heritage and other ethnic heritage organizations.
If you'd like to see photos from last year's parade, click here. But the parade is not just an "Irish thing". According to their website, the parade
is the second-largest St. Patrick's Parade in the USA. 23,000 participants. In 2012, the Parade drew over 350,000
spectators on a warm, sunny day.
Mass will precede the parade at 8 a.m. at St. Patrick's Church in the Strip District.
And The Family-friendly Parade Fest in Market Square!
Location: Downtown at 10 a.m.-1 p.m.
Description: On stage will be Weekend at Blarneys and Irish dance performances from Shovlin
Academy of Irish Dance and the Pittsburgh Ceili Club. Buskers will entertain in the square and the
little lads and lasses will be able to have their faces painted for the holiday!
Attending the parade as a spectator
What to bring
If it is a cold day, bring a warm hat, warm gloves, and warm shoes. For a sunny day, you'll want to bring sunglasses, suntan lotion, and a hat. The parade goes on rain, shine or snow.
Transportation and Parking
The subway is a great way to get in and out to see the parade.
More information
If you want more information, such as to participate in the parade or become a sponsor, see the parade's official website here...
Find the parade's Facebook page here.
Other holidays and resources: