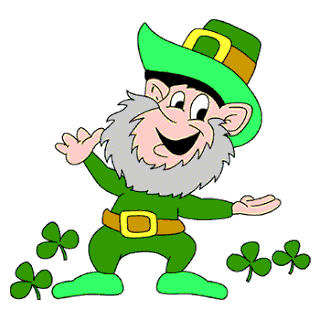 Dallas St. Patrick's Day Parade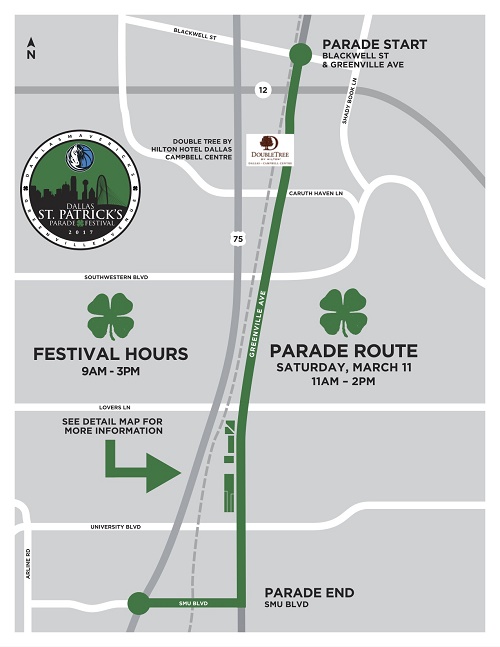 Dallas's St. Patrick's Day parade dates back to 1979
When:
The St. Patrick's Day Parade will be held on Saturday, March 11, 2023 at 11 am. See see the parade's official website for latest updates. They could have changed or cancelled it after we last updated this page.
Where:
The Parade will travel a 2 Mile Route from Greenville at Blackwell St. to Yale Blvd/SMU Blvd at 75 Central Expressway
View a larger printable PDF version of the Dallas St. Patrick's Day Parade Route Map here.
If you want an interactive Google map, so you can get directions to some point along the parade route, click here!
More about the parade:
The parade website says it is the largest St. Patrick's Parade in the Southwest with 125,000+ Attendance
If you'd like to see photos from last year's parade, click here. But the parade is not just an "Irish thing". According to their website, the parade
More than 90 Parade Float Entries
More than 1,700 Parade Participants
Organizers have again partnered with management of the Meadows Building, Sunwest Real Estate Group, and adjacent lots from Office Depot to CVS, thanks to Westwood Financial Corp., to provide exhibitor accommodations, food trucks, and activities for all ages.
Attending the parade as a spectator
What to bring
If it is a cold day, bring a warm hat, warm gloves, and warm shoes. For a sunny day, you'll want to bring sunglasses, suntan lotion, and a hat. The parade goes on rain, shine or snow. And of course, it is traditional to be dressed in GREEN (or orange or white - colors of the Irish flag)!
Transportation and Parking
Mass transit is a great way to get in and out to see the parade.
More information
If you want more information, such as to participate in the parade or become a sponsor, see the parade's official website here...
Find the parade's Facebook page here.
Email: navarro@raizpr.com.
Information Line: 214-600-1533
Other holidays and resources: