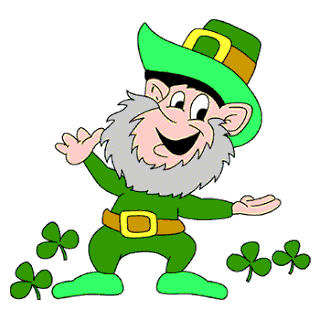 Charlotte, NC St. Patrick's Day Parade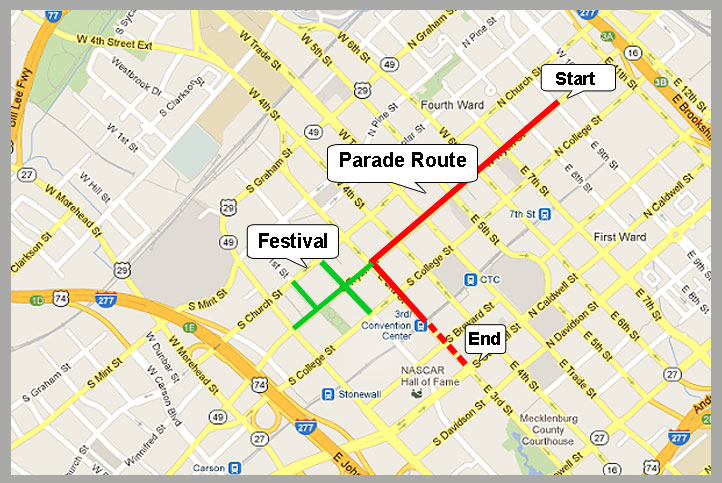 Charlotte. NC's St. Patrick's Day parade dates back to 1956 .
For a complete history of the parade, click here.
When:
Saturday, March 11, 2023.
Parade: 11AM - 1PM
Festival: 10AM - 6PM
Where:
Tentative route: (The parade reorganized after 2021, so the route may change, they have not yet published it) The Charlotte, NC St. Patrick's Day Parade will start at N. Tryon St. and 9th Street in uptown Charlotte. It then marches south to 3rd Street where it takes a left and marches down 3rd St. to Caldwell.
View a larger printable PDF version of the Charlotte. NC St. Patrick's Day Parade Route Map here.
If you want an interactive Google map, so you can get directions to some point along the parade route, click here!
More about the parade:
The parade is not just an "Irish thing". According to their website, the parade
The Charlotte St. Patrick's Day Parade is a non-profit event, open to the public, that is produced by the Charlotte St. Patrick's Day Parade Foundation, Inc., a 501(c)3 non-profit organization. The Parade is open to pipe & drum bands, musical groups, neighborhood associations, schools, alumni groups, cheerleading and drill teams, international organizations, police, fire, elected officials, commercial businesses, and anyone else who wants to be Irish for a day. The parade will step off at 11:00 A.M. Check out the Map Page for the complete parade route.
The Charlotte Goes Green festival is also normally on the same day as the parade and runs from 10:00 AM until 6:00 PM and the festival has no admission fee. The festival is located on S.Tryon St. starting at 3rd St. and going down towards Stonewall St. & includes Levine Avenue of the Arts. The festival begins where the parade turns left on S.Tryon St. The entertainment stage is at the Levine Avenue of the Arts end.
Attending the parade as a spectator
What to bring
If it is a cold day, bring a warm hat, warm gloves, and warm shoes. For a sunny day, you'll want to bring sunglasses, suntan lotion, and a hat. The parade goes on rain, shine or snow. And of course, it is traditional to be dressed in GREEN (or orange or white - colors of the Irish flag)!
Transportation and Parking
Mass transit is a great way to get in and out to see the parade.
More information
Charlotte has held a St. Patrick's Day parade and festival for the past 24 years. However, the pandemic over the past 2 years forced cancellation of all activities, and other circumstances resulted in the cancellation of the 2022 parade. If you want more information, such as to participate in the parade or become a sponsor, see the parade's official website here...
Find the parade's Facebook page here.
Phone: 704-218-9683
Email: Info@Charlottestpats.com.
Other holidays and resources: